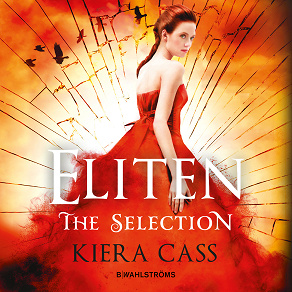 Isbn:
978-91-3216-912-0
Publisher:
B Wahlströms
Category:
Young adults
Accessible since:
September 2016
---
The Selection 2 - Eliten
Eliten är andra boken av fem i Kiera Cass enormt populära fantasyserie. Hungerspelen möter The Bachelor i denna internationella bästsäljare.

Av de trettiofem deltagarna i Urvalet återstår nu bara sex, Eliten. Endast en kan stå som segrare, och mycket står på spel. Den som lyckas vinna prins Maxons hjärta får förutom sin drömprins ett liv i överflöd i det kungliga palatset. Men America är inte helt säker på sina känslor. När hon är med Maxon känns det så pirrigt, så bra, så rätt. Men varje gång hon ser Aspen kommer minnen av deras kärlek tillbaka. Samtidigt blir rebellattackerna mot slottet mer och mer brutala. Kommer de beröva America på alla utsikter till ett lyckligt slut?
Read sample
(Download)
---